THIS EFFICIENCY IS NO LONGER AVAILABLE EXCEPT WHEN NEEDED AS ADDITIONAL SPACE FOR GUESTS IN THE MAIN PART OF THE HOUSE, WINDRIDGE, ABOVE.


Welcome to Efficiency - VA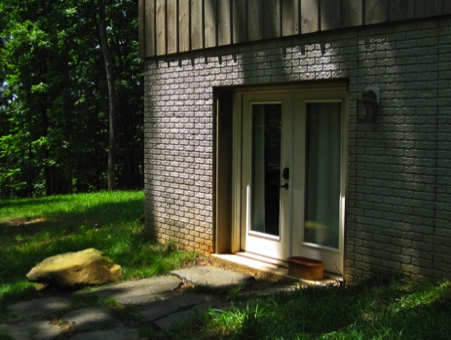 Entrance to the basement efficiency - on the left side of the house
Rent a basement efficiency apartment in a loghouse in VA!!!
The website for the two floors above this efficiency at:
This walkout efficiency is a generous 650 square feet of comfortable space in the basement of a log house on 15 acres and overlooks over 800 acres of conservation easement farm land.  It is 5 miles to Leesburg and not far from the big cities of Washington, DC and Baltimore, MD.
Always a great time to see lovely shops and visit wineries!

Family, friends and previous guests: Please contact us for Special Rate!
434.535.2540