THIS EFFICIENCY IS NO LONGER AVAILABLE EXCEPT WHEN NEEDED AS ADDITIONAL SPACE FOR GUESTS IN THE MAIN PART OF THE HOUSE, WINDRIDGE, ABOVE.



This peaceful walkout efficiency is in the country but also close to town. It is in the basement of a log house which sits on it's own 15 acres and overlooks another 850 acres of farm land under conservation easement. There are many deer, turkey and on occasion a fox hunt may be seen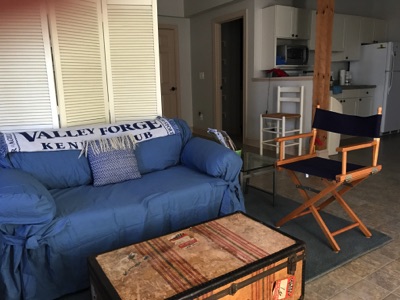 Looking at living area with queen bed behind screen & kitchen to right
with riders in their hunting attire on lovely horses following the sounds of horns and hounds in the distance.
Many people, visiting or here on business for a short duration, have found this efficiency to be convenient to many local businesses as well as those in Northern VA. It is also well situated for those needing temporary residence while seeking permanent housing in the area.
The cozy apartment has a living room/bedroom area, divided by a screen; a large eat-in kitchen area and a separate bathroom. It has a queen bed and two large closets as well. Some of the other furnishings include a nice sized desk, couch and a couple of dressers. The kitchen is equipped w/ a refrigerator, microwave, convection oven, coffee maker, toaster and a single burner. All bowls, a pot with lid, casserole dishes, etc. needed for cooking are supplied as well as glasses, dishes and utensils. This large efficiency connects through a separate door to an unfinished basement below the main part of the log house, with a casual sitting area, pool table and treadmill. Outside is a nice stone patio area and side yard to relax in also.
Always a great time to see lovely shops and visit wineries!